Boeing 787 Dreamliner
The Boeing 787 Dreamliner is a mid-sized wide body, twin engine passenger airliner currently under development by Boeing's Commercial Airplanes unit and scheduled to enter service in May 2008. Boeing has more than 400 orders for the aircraft, which lists for about $150 million and up, the first deliveries of which are expected sometime in 2008. As a commercial airliner, the 787 will seat 210 to 330 passengers, depending on the airline that flies it. PrivatAir, a Swiss company that specializes in long-haul VIP flights on privately configured big planes, is definitely interested in the 787 and in having it outfitted in true luxury, according to Greg Thomas, PrivatAir's chief executive.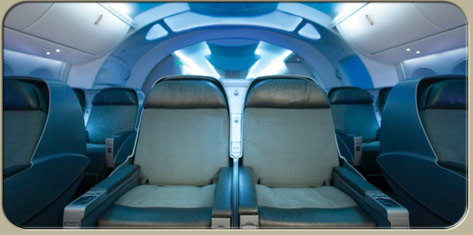 In addition to bringing big-jet ranges to mid-size airplanes, the 787 will purportedly provide airlines with unmatched fuel efficiency, resulting in exceptional environmental performance, as the aircraft uses 20 percent less fuel for comparable missions than today's similarly sized airplane. Passengers will also see improvements with the new airplane, from a quieter interior environment with higher humidity and a lower cabin altitude, a spectrum of calm lighting to help ease time-zone transitions, large 19-inch windows that can be dimmed with a touch of a button, and bucket-style seats that offer private reclining sleep-space for increased comfort and convenience in executive class.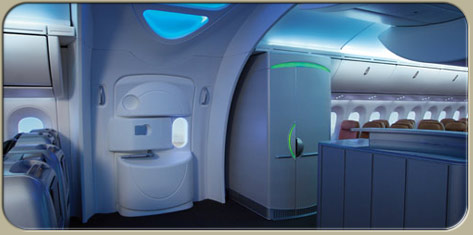 And it won't be just the passengers that benefit. Boeing also worked with airlines and pilots around the world to develop a flight deck that complements the unique improvements featured in the passenger cabin. Key features of the Dreamliner flight deck include larger displays, dual head-up displays and dual electronic flight bags.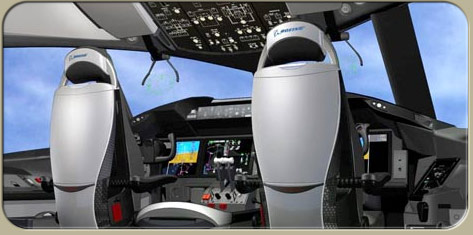 View Corporate Website: www.newairplane.com