Airbus A350
The Airbus A350 is a long-range, mid-sized, widebody family of aircraft currently under development, designed to compete with the Boeing 777 and 787. The A350 will compete with Airbus' own A330 and A340, although there are no announced plans to discontinue those models. The A350 will have a fuselage cross-section wider than the original A350, which used the existing Airbus widebody standard. Airbus refers to this as "XWB" or "Xtra Wide Body" and states that from the point of view of a seated passenger, the cabin is 5 inches wider at eye level than the competing Boeing 787. The A350 is scheduled to enter service in the first half of 2010.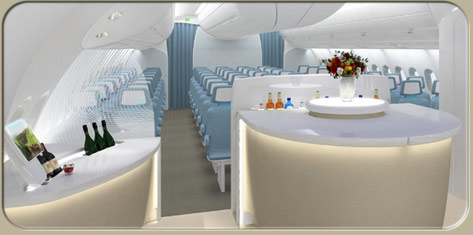 What makes this a real next-generation aircraft (at least aesthetically) is some of the new cabin features and interior design. Airbus signed a contract with BMW to develop an interior concept, and some of the results were presented at the Aircraft Interiors Expo 2006 exhibition in Hamburg. It is unclear to what extent the German automotive company has participated in the new cabin look, but A350 chief engineer Dougie Hunter has described many new features in the A350 cabin.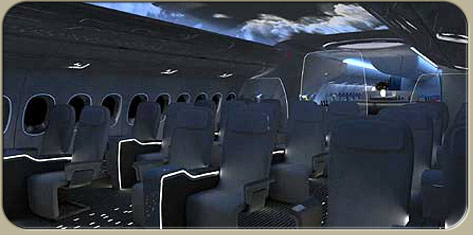 For starters, "We can project onto the ceiling whatever is appropriate for the mood required - for example the night sky or clouds etc." There is also a bar area, a domed entrance-way to give a feeling of spaciousness, and improved overhead bin design to increase their volume. Other features include new high-quality materials for sidewalls and ceilings based on nano-technology, larger windows for more natural light, wireless access to internet and email providers, the ability for passengers to use their personal cell phones, and onboard satellite TV with multi-channel packages.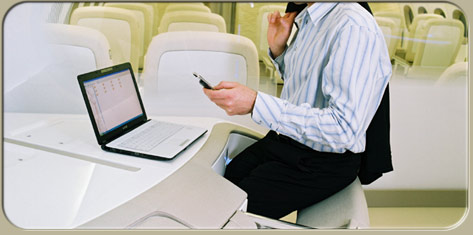 View Corporate Website: www.airbus.com (Aircraft Families - A350)