Airbus A380
The Airbus A380 is a double-decker, four-engine aircraft which is at present the world's largest passenger aircraft. The A380's upper deck extends along the entire length of the fuselage. This allows for a spacious cabin with 50% more floor space than the next largest airliner, the Boeing 747-400, and provides seating for 555 people in standard three-class configuration or up to 853 people in full economy class configuration.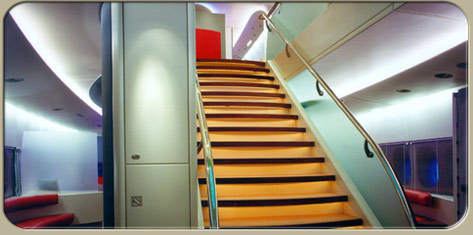 Each twin-aisle cabin allows wider seats but with fewer rows than on other large aircraft. The A380 is notably in direct competition on long haul routes with the Boeing 747-8, the current new development of Boeing's largest airliner, also being developed and pre-sold at a similar time. The A380 will carry more passengers over longer distances, allowing for projected passenger growth worldwide and helping to ease an increasingly congested environment.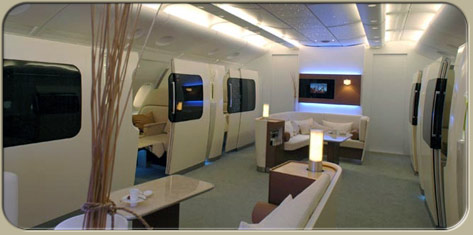 Initial publicity stressed the comfort and space of the A380's cabin, which offers room for such installations as relaxation areas, bars, duty-free shops, and beauty salons, making the A380's cabin look more like a hotel bar and recreation area, than the inside of an aircraft. One A380 customer who is likely to use innovative amenities is Virgin Atlantic Airways, which currently has a bar in Business Class on its aircraft, and has announced plans to include casinos, double beds, a gymnasium and showers on its A380s.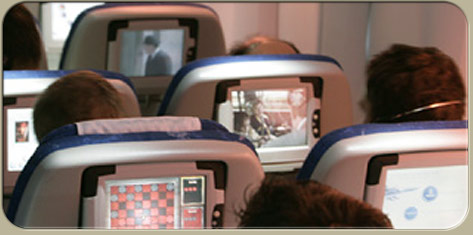 The in-flight entertainment (IFE) system on the A380 is one of the best available and was developed especially to take advantage of the A380's fibre-optic data distribution network, offering movies, audio and games on-demand - all direct to individual liquid crystal displays on seatbacks
View Corporate Website: www.airbus.com (Aircraft Families - A380)